The Science of
Gamer Motivation
Quantic Foundry is a market research company focused on gamer motivation. We combine social science with data science to understand what drives gamers.
Sign up for our newsletter to keep up to date with our gamer psychology findings and analytics blog posts:
The Science and Data Behind Our Gamer Motivation Model
Our Gamer Motivation Model
Data From Over 400,000 Gamers
We used established psychometric methods and data from over 400,000 gamers to develop an empirical model of gamer motivations. Want to learn more? Watch a 20-minute talk of how we created the model and some key findings. Follow up with our 2019 GDC talk for a deep dive into the 12 motivations.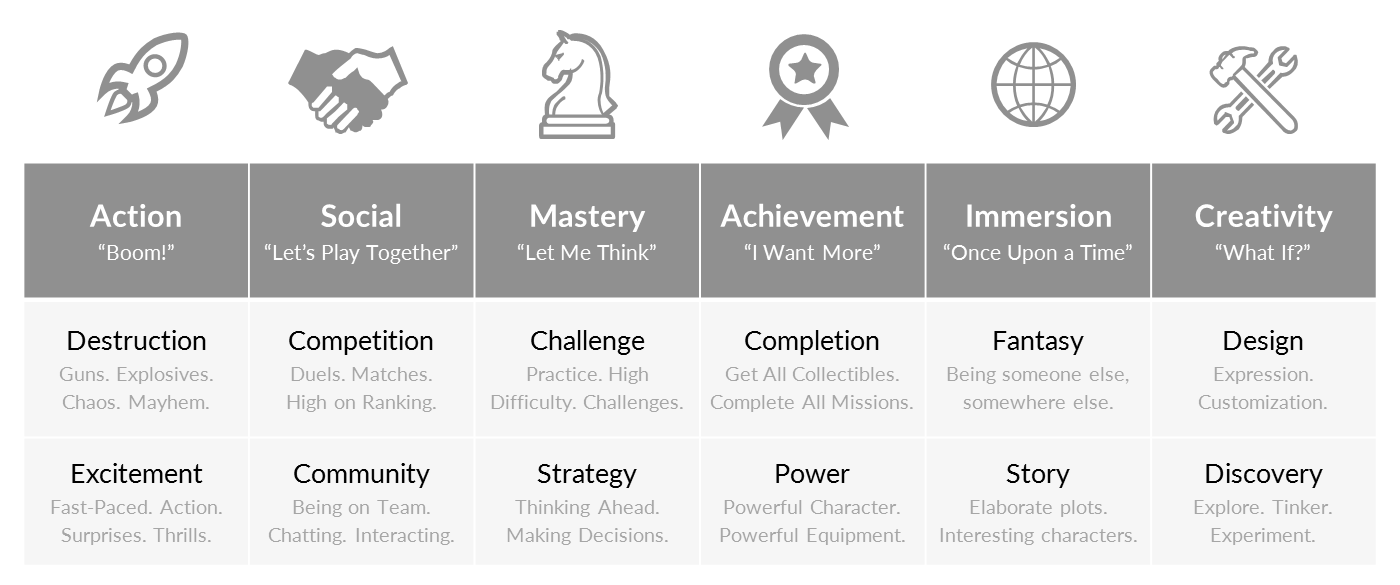 Dashboard Access to All Our Audience Data
Game Audience Dashboard
See our new dashboard in action in the video demo below. We walk through all the main reporting and graphing features of the dashboard.
Features At a Glance
Convenient online dashboard based on real-time data.
Complete access to our catalog of over 2,800 game titles.
Based on data from over 400,000 gamers.
Audience reports based on individual or multiple game titles/franchises.
Filter an audience report by gender, age range, gamer type, or gaming frequency.
Visually explore related game titles using our dynamic graphing features.
Download a PDF overview of the key features.
Data-Driven Insights About Your Audience
Here's What Our Clients Are Saying
Thanks to Nick's team we now better understand what motivates our players. We have restructured our production and marketing strategies based on their great insights.
Quantic Foundry's audience report of Idle Clicker gamers helped us sharpen our communications by identifying primary player motivations. By aligning our marketing messages to these motivations, we became more effective in identifying and communicating with our players.
Quantic Foundry's Audience Dashboard helped us bring two projects through pitch and conception phases.
Quantic Foundry's custom profiling service helped our game teams drive new features that we're locking down for the next year or so. QF's motivational framework also gave us concise and impactful language that could be consistently shared across game teams and titles, helping us understand how our players differed even within the same franchise.
We were in the midst of exploring a new game concept and reached out to Quantic Foundry. They took the time to understand what we needed, and put together a customized report that was valuable and actionable.
Quantic Foundry's report provided many useful insights which made us re-think a few assumptions.
I was so excited about the release of the Motivation Insight Report. It is a great reference and provided exactly the information we were looking for.











A team that has been analyzing game data and innovating game analytic methods for over a decade.
Our Team
Nick Yee and Nicolas Ducheneaut have been studying games and gamers for over a decade.
They leverage their broad experience in academic, commercial, government, and game industry research in gaming to analyze game data and generate actionable insights.
Nick Yee and Nic Ducheneaut both have academic backgrounds that combine social science with computer science. They received their PhDs from Stanford University and U.C. Berkeley, respectively, and began working together in 2005 at the Palo Alto Research Center (Xerox PARC). Their shared interest in developing innovative methods to study online games—whether it is creating empirical frameworks of gamer motivations or mapping social networks in World of Warcraft—resulted in more than 40 peer-reviewed papers.
Seeking to apply these insights and methods directly within the game industry, they joined Ubisoft in 2012 where they founded the Gamer Behavior Research group. Their fluency in different methodological approaches allowed them to combine and derive actionable insights from diverse data sources, which accelerated collaboration between design, marketing, and analytics teams. In order to meet a broader industry demand for their unique skillset, they formed Quantic Foundry in 2015.