When we launched the Gamer Motivation Profile about a month ago, we really weren't sure how gamers would react to it. Running a factor analysis on survey data is one thing, but figuring out how to present a self-scoring profile back to gamers is an entirely different thing. Were we presenting way too much detail in our profiles? Would gamers share their profiles and get their friends to take it? It turns out that the one thing we thought we knew for sure—something our beta test respondents were the most vocal about—was completely wrong.
It turns out that the one thing we thought we knew for sure … was completely wrong.
But first, I need to tell you about the Philippines. In the first 3 days after we launched the profile tool, about 400-700 gamers took the profile tool each day. Then on the 4th day, we suddenly had a spike of 2,400 responses: many gamers were sharing their profile results on Facebook in the Philippines. Over the next 48 hours, this social activity spread to Indonesia. This pattern of country hopping continued for another 2 weeks: after Indonesia, activity spread to Singapore and then briefly in Malaysia. After this activity in South-East Asia, the traffic circled back around the globe and most of our social traffic was coming from the US. It then hopped over to Brazil, where we ended up netting 5,400 responses in one day. In the first 3 weeks after the launch of the profile app, over 30,000 people (counted as unique IP addresses) took our Gamer Motivation Profile.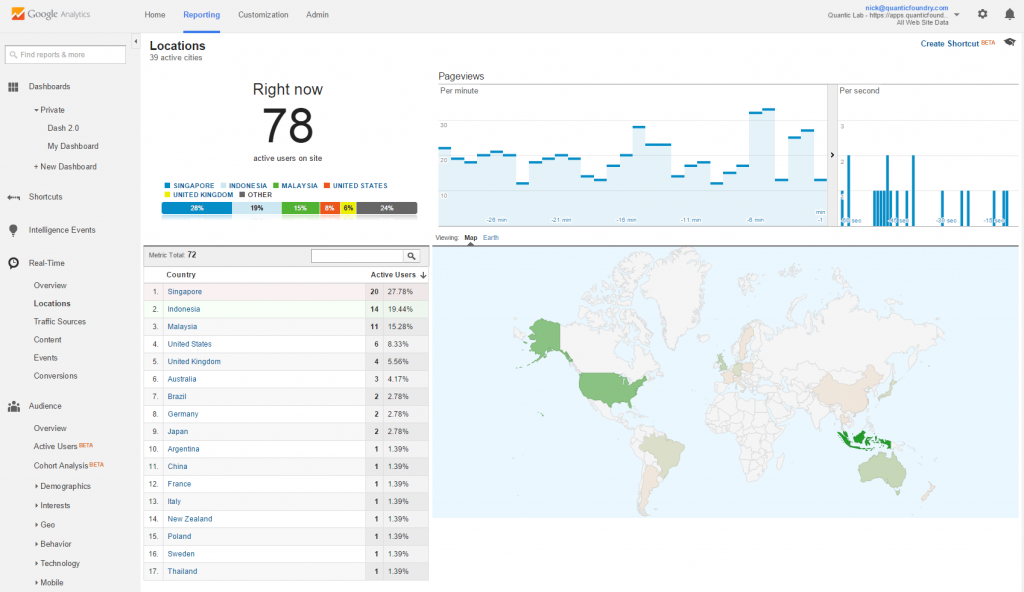 When we ran our beta test, our participants were most allergic and vocal about the idea of a Facebook app for the profile tool; the response was overwhelmingly negative. So we purposefully developed a tool that made sharing simple and agnostic—you can share your profile results via a web link on any social network, blog, or even email. We launched the profile tool expecting only minor traffic from Facebook, but it turned out to be our primary traffic source. Of all the options we provided users to share their profiles, the most popular method was Facebook:
83% of our traffic came directly from Facebook.
8% of the people who came to the site ended up sharing their profile on Facebook.
The most highly shared profile on Facebook brought in 1,340 sessions.
It would be understatement to say we're overwhelmed with the response to the profile tool. To put the collected data in perspective, when I ran the Daedalus Project, the most I ever got to a single survey was around 4,500 gamers and that was considered a lot of data in social science.
83% of our traffic came directly from Facebook.
The size and geographical breadth of the data is allowing us to gain a great deal of clarity into gamer motivations and understand how they do and do not vary across gender, age, and country. The data has also allowed us to powerfully validate and refine the Gamer Motivation Profile. And we are rolling out a new version of the profile tool based on this new data set.
Nic and I would like to thank all the gamers who took the time to take and share the Gamer Motivation Profile!